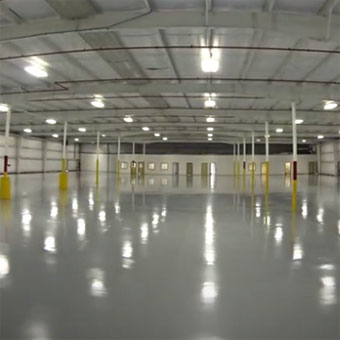 The Crack Tech has been providing industrial epoxy floor installation, repair and maintenance services to Rhode Island, Massachusetts, and Connecticut for years. Our team of highly-trained and experienced epoxy floor crews are fully insured and have a long track record of providing reliable service.

You can count on us to provide quality services you can rely on for years to come. We have all the necessary equipment for any size project and will meet your critical installation timetable to minimize costly downtime.
Epoxy flooring is a popular and durable floor coating for industrial, commercial, and even residential spaces due to its superior hardness and durability. It is usually applied to well prepared and sound concrete floors, but can also be used for other applications, like walls, steps, patios, loading docks, etc.
What is an epoxy floor coating?
Epoxy floor coating is a type of coating made up of two liquid components – a polyepoxide resin and a curative – that are mixed together and applied to the surface of a concrete floor. When the two components are combined, they create a strong bond and a hard, durable surface.
Don't Use Cheap Epoxies
These low-cost epoxy coatings may be attractive due to their low prices, but they are not durable and tend to wear out quickly, yellow, and fail. It is impossible to achieve a high-performance industrial and commercial floor with these types of epoxies.