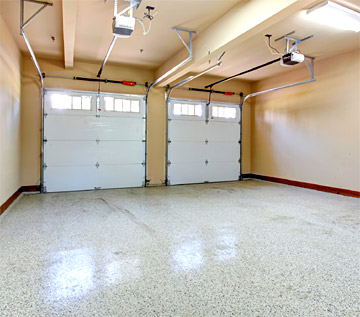 Our strong, durable, and stain-resistant, Polyurea and Epoxy floor coatings will withstand high traffic and any demanding activities your RI or MA garage floor may face.
These specialized coatings are not only perfect for garage floors, they are also great for basement floors, workshop floors, patios, pool decks - basically any concrete surface that will "take a beating".
Any cracks and concrete damage will need to be repaired prior to the application of the durable polyurea or epoxy coating.
Any oil stains will be cleaned and sealed also.
Your garage, workshop, or basement floor will look brand new and will be ready for many years of maintenance free use.
Non-slip and non-skid additives are available.
Why Is Polyurea Ideal For A Garage Floor?
Polyurea is considered a subset material of polyurethane, and it is extremely durable, stain resistant, scratch-resistant, UV resistant, resistant to many chemicals, and is moisture resistant. You probably could not find a better material to coat a Rhode Island garage floor with.

If properly installed, polyurea coatings can last decades.
Epoxy Vs Polyurea
Epoxy is a durable product and does well as a garage floor coating. It can handle tire marks, stains, chemicals and impact. But, the pulling in into the garage with hot tires will eventually wear down the epoxy coating. UV light will also degrade the epoxy over time.
This is were polyurea shines, being much more durable and flexible than epoxy, is resistant to chemicals, can take weight and shock, and can withstand heat up to 420 F.
It is also UV-resistant and will not yellow and degrade with sunlight.
Epoxy only lasts around 5 years before some deterioration starts to show. On the other hand, polyurea can last easily 15 and more years. Under the same conditions, expect your polyurea floor coating to last easily a decade more than your epoxy floor.
Epoxy Floor Cost
When budgeting for an epoxy garage floor, the most important factor determining the cost is the total floor area being covered. Epoxy coating is priced per square foot of flooring, and averages between $3 to $7 per square foot for materials and application. Larger garage floors will ultimately cost more than smaller ones to coat with epoxy.
The type of epoxy product selected also affects the total project price. Basic quality epoxy kits from home improvement stores cost less than premium commercial-grade epoxy coatings purchased from a contractor.
Extra preparation work like fixing cracks and etching the concrete prior to epoxy application can also add to the total expenses. However, proper prep creates the best bond and finish.
Getting quotes from experienced epoxy installers is the best way to estimate the total cost for transforming your specific garage floor with this durable and decorative coating. The final price will depend on options picked and the square footage of your garage.
Benefits of our professional epoxy and polyurea floors:
Repair cracks, holes, stains in existing concrete slabs
Create UV-resistant, non-porous surfaces
Withstand heavy foot and vehicle traffic
Easy to clean and maintain
Vast custom color and finish options
We don't take a one-size-fits-all approach - your floor is customized to match your unique needs. From color selection to finish and performance requirements, we work with you to design the perfect epoxy floor.
For affordable epoxy flooring that combines artistry, durability, and functionality, choose The Crack Tech.

Contact us today for a free quote and to discuss coating your RI garage floor or basement floor with the latest epoxies and polyurea coatings. We look forward to transforming your concrete surface.


Serving Rhode Island, nearby Massachusetts and nearby Connecticut

We specialize in installing high-quality polyurea and epoxy floor coatings for homes and businesses. Our commercial-grade epoxy and polyurea formulas create durable, seamless finishes that enhance the beauty of your concrete while providing lasting protection.